I've been busy and lazy, but I need to write down this entry!

Last week, my awesome clock friend Larry
clocktor came all the way down from Connecticut to visit me. It was an 8 hour drive (poor guy).

We had planned for a 6 hour trip (according to MapQuest), and L wanted to get here early-ish. So I worked an extra hour on Tue-Wed-Thu, and got off work on Friday at 3:00. However, due to traffic delays, and a mishap at customs, he didn't arrive until about 6:50pm.

The customs bit was funny. Larry was following directions that said to pull right after the bridge, and he ended up on the wrong side (because there's TWO bridges to cross) so the customs people thought he was trying to drive AROUND them into the truck inspection part. So they pulled him over, brought him inside, and had a little chat with him. Then they CALL me, and they're like: Are you expecting a visitor? What's his name? How long have you known him? How long is he staying? Where will he be staying? LMAO!

So L finally made his way here, and we both had our little moment of "OMG it's YOU! In the flesh!" Then hugged, and I helped him bring his stuff upstairs.

So I gave him the grand tour of my apt, then we chatted a bit, and he was starving. We were going to go somewhere to eat, but I had already eaten, and it was going on 8pm, so I took him to "Grampa Bill's" (fry shack/chip stand), and I told him he had to try a poutine. He also ordered a burger (with NO tomato, but they gave him one anyways). From what I saw, Larry liked the poutine, but was fearful of dying of a heart attack. Plus he had eaten the burger.

Larry then showed me some of the stuff he brought! He gave me a whole bunch of old NAWCC bulletins and Marts issues (clock magazines and old "for sale" publications, basically), which have a ton of great articles in them. He also gave me a beautiful old (and very hard to find) Chauncey Boradman Fusee movement (sorry, no pics yet, as it needs major cleaning). He also gave me a very old and dirty Ansonia Cast Iron clock with the movement. It's missing the back (which he has at home), the glass and bezel, hands, and a pendulum, but I can get most of these easily.

The Ansonia Cast Iron clock:



He also showed me the Banjo clock movement (he brought it so that I can make it work, and then build a repro case for it). It's smaller than I had thought, but it's really well made. He also brought a spring vienna clock movement that he hoped we'd be able to fix (I still can't figure out what's wrong with it yet).

That evening, we chatted a lot, and sorta planned a bit for Saturday. He suggested we maybe go to yard sales. But when Mom called at 11:30 or so (she works late), she said we'd need to be ready for 7am, since she was driving Don to work. L was WAY too tired from the trip, so we decided to go to some, but not get up that early.

***

I got up around 8ish and showered, then I woke up Larry and started making eggs and toast for breakfast. We left around 8:45 or close to 9, and did a bunch of yard sales. I got a beautiful antique frame, complete with wooden back, and antique wavy glass, for 15$, and I got the new pot for my lemon tree (see prev entry), and a few other things.

We left Cornwall around 10:30, since I wanted to be on Parliament Hill in downtown Ottawa by noon to hear the bells (carillon concert). We kinda made it, but late. I made a small goof by having us park a tad too far (in the ByWard Market), and then I took us the wrong way around and we ended up at the park across from York Street.



On the way there, here's a shot Larry took, of the US Embassy: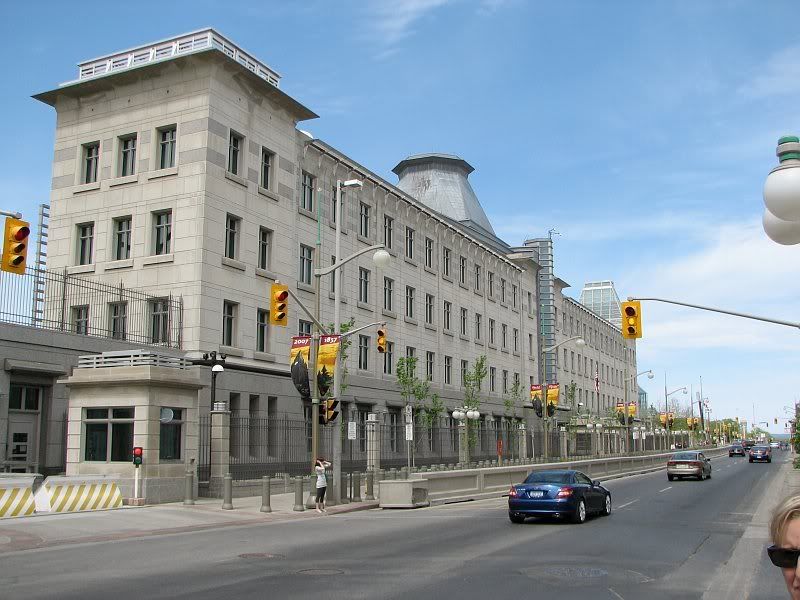 This was the view of the clock tower from across the Rideau Canal (in the little park):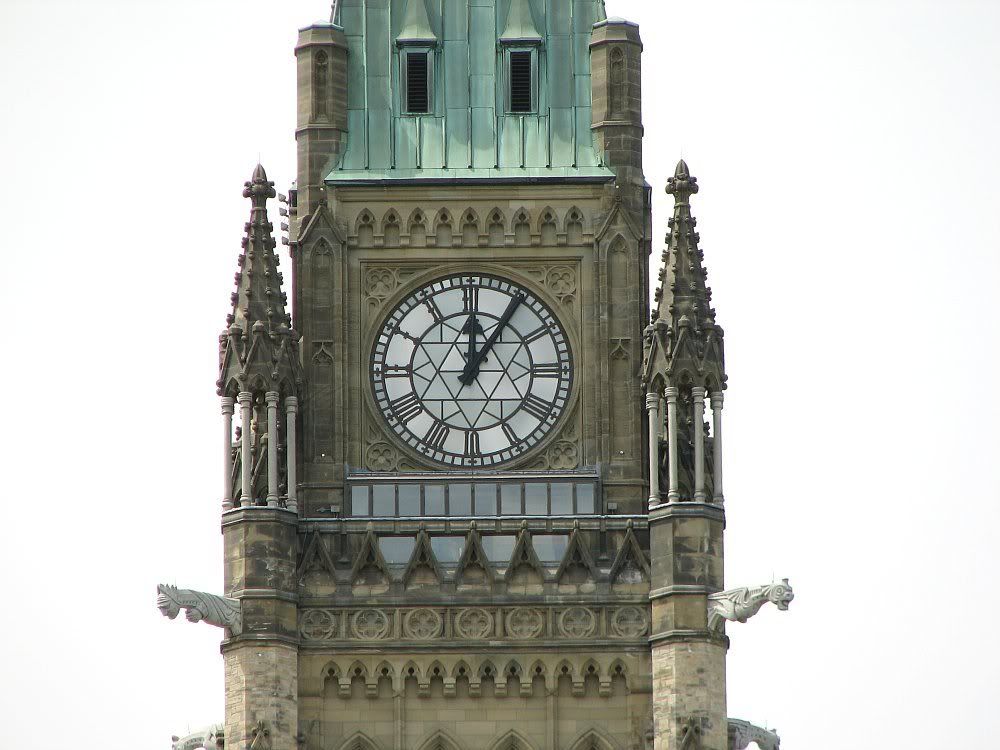 View of the Hill: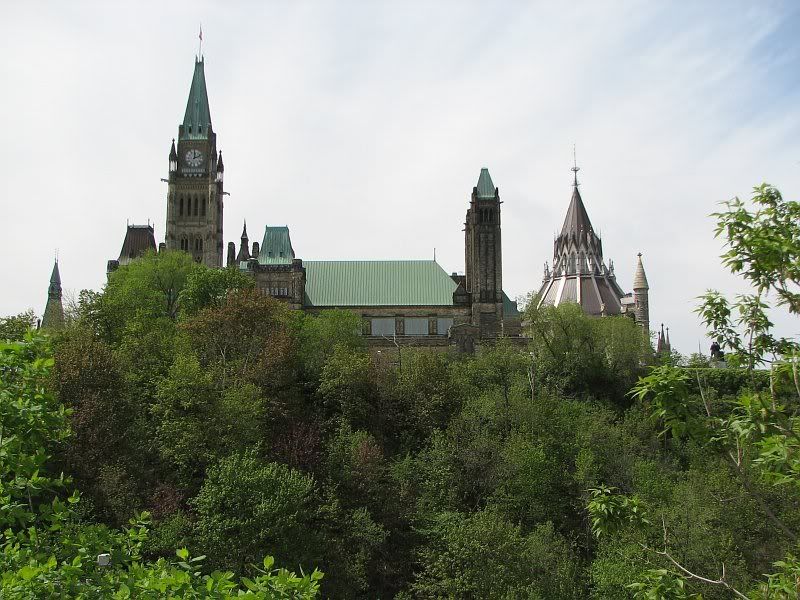 It was also the annual Tulip festival (http://www.tulipfestival.ca/en/index.php). Each year, we get tulips from (Holland?) and they are planted all around Ottawa. There was a TON of people that weekend, and the weather was gorgeous.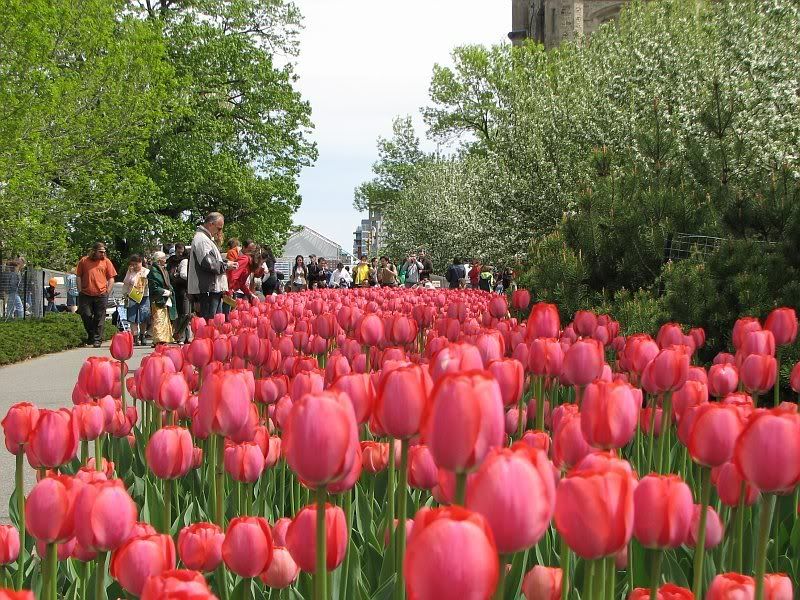 When we got a good view of Parliament Hill, we could already hear the bells playing from the park. So since I thought the concert was only 15 mins, and it was about 10 after, we listened to it from across the Rideau Locks for a bit. But the concert kept playing, so we decided to make our way around.

Leaving the park gave a beautiful view of the old Royal Canadian Mint: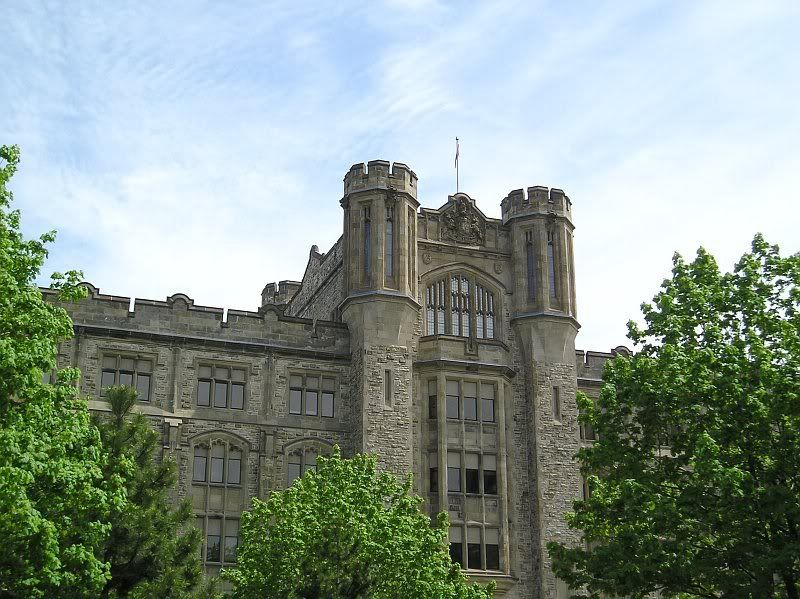 As we got around, and over another bridge, I showed Larry the Rideau Locks: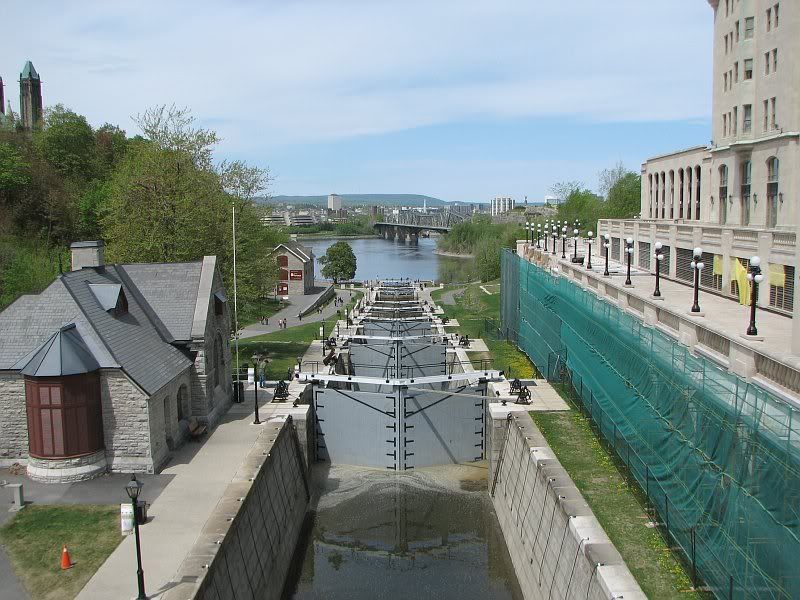 The Centennial Flame in front of the Centre Block: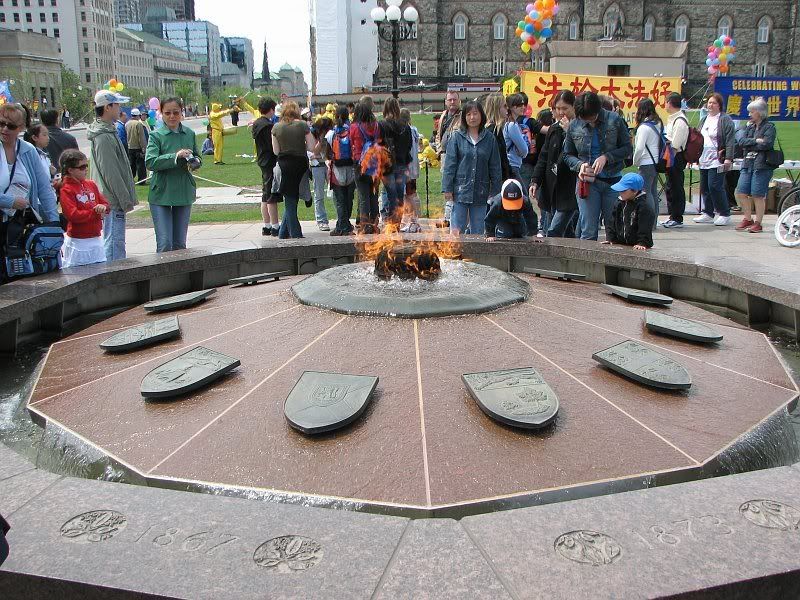 With Larry's awesome Camera, he was able to snap me the BEST PHOTO EVER. I've been looking for a good shot of the peacetower dial and hands for about 4+ years, so this shot for me is priceless. With this shot, I was also able to confirm that the hands on my "Paper Clock" (which is supposed to be an exact copy of this one) are indeed wrong.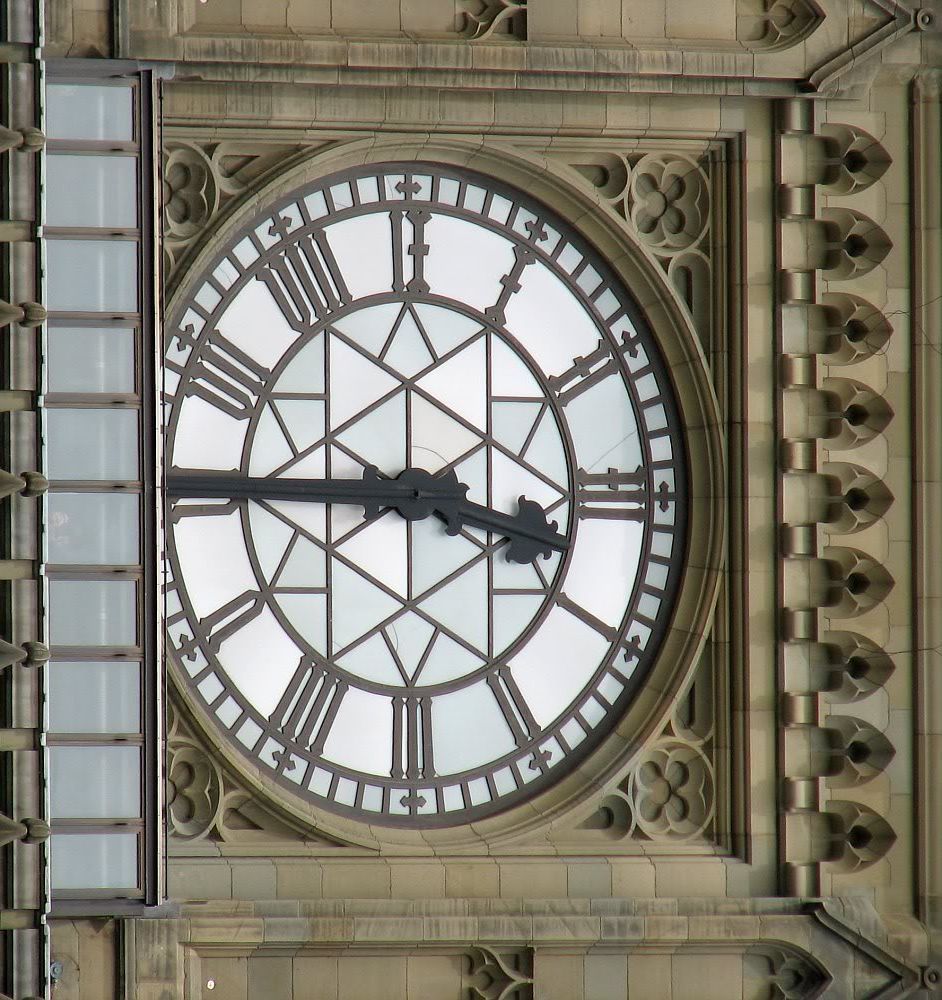 By this time, it was around 1:00 and we were getting hungry. We also had to go and put more change in the metre for parking, so I took Larry around the long way, through the Sparks Street Mall, and showed him a few more sights.

The old Post Office clock: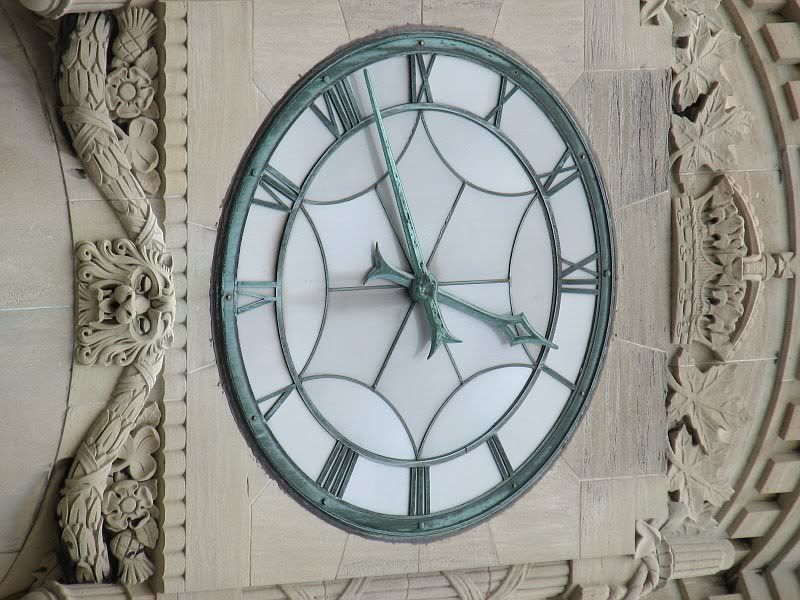 The War Memorial/Cenotaph: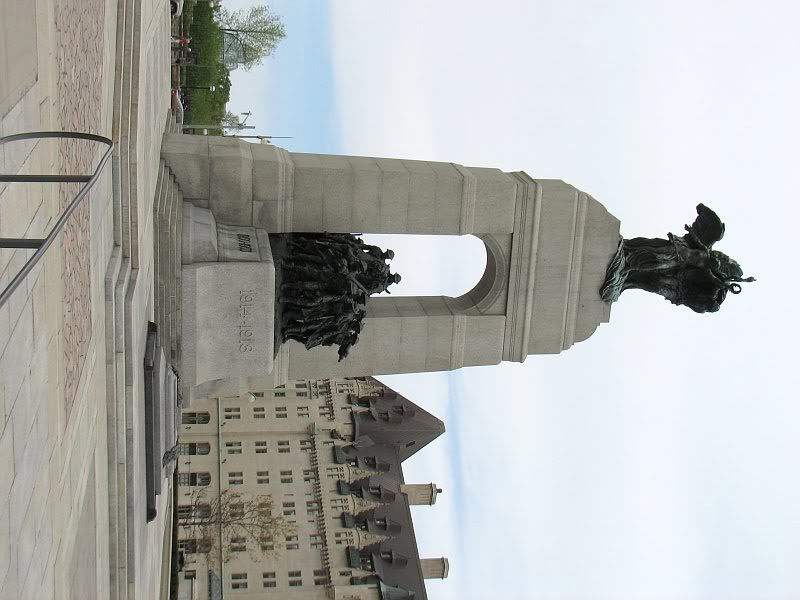 Which also had more beautiful tulips around it. I have never seen dark purple tulips before.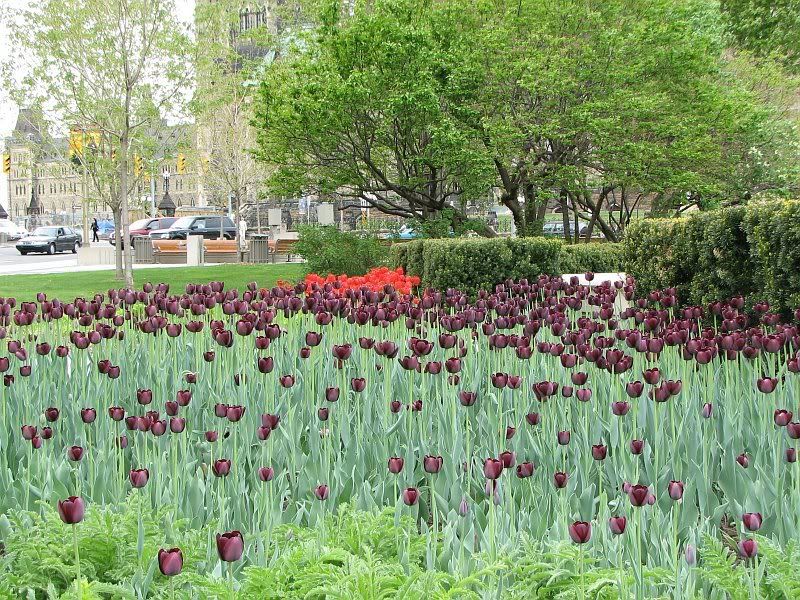 From the Cenotaph, we can also see a really nice view of Chateu Laurier, which is a very posh hotel.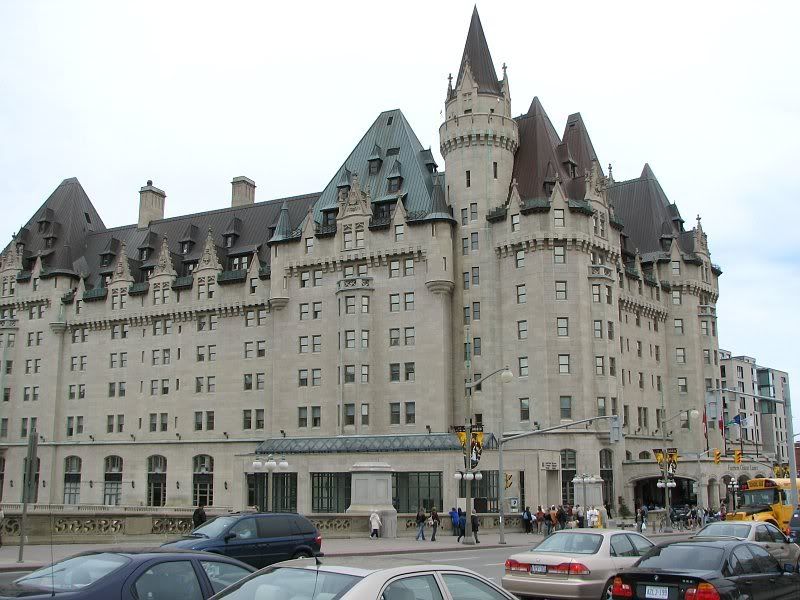 So we walked around in the Market area looking for a place to eat lunch, and we found this kick-ass Thai restaurant. I have no clue what it was called, but the food was excellent, and very well priced. I believe I said "Damn that's good Spring Roll" about 5 times as I ate it. I had this Shrimp and chicken dish served on vermicelli, with a nice light salad and spring roll. I forget what Larry had, but it was equally good.

Right after we ordered, is when we realized that our parking ticked had expired, so I got L's keys, and jogged down 3 blocks to go pay for another hour of parking. I got back JUST as the lady was bringing our our plates, lol.

After lunch, we strolled around in the market, where L bought a lovely embroidered runner for his new piano.

We got back to the car, after a quick stop at two little antiques stores, and I spotted a Smart Car. Larry had been saying how cool they were earlier that morning, so I made him take this photo. Muahahha...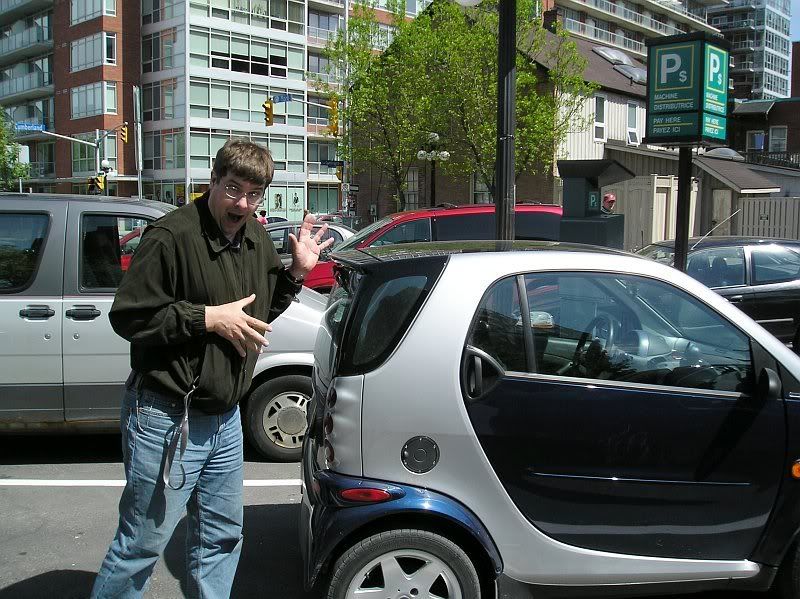 We decided to go back to the Hill, and find a parking spot that was closer. We took the wrong street, I guess, and ended up crossing the bridge into Hull (Quebec). It took a bit of driving around but we got back to the second bridge and crossed back into Ottawa.

We got back to the hill, but it was around 2:30-3:00 and Larry wanted to make sure we'd have time to go to Lee Valley. I wasn't sure how long they were open on Saturday, but we decided to go there forst, then come back.

We got to Lee Valley, where L got some Shellac, Hide Glue, and I got some steel rods to use in clock repair.

When we got back downtown again, around 4-ish, we saw that the tent where you get your tour pass was closed, and that apparently all the tours for the whole day had been sold out at around 12:00. I was REALLY disappointed.

So we just walked around the Hill and took lots of pics.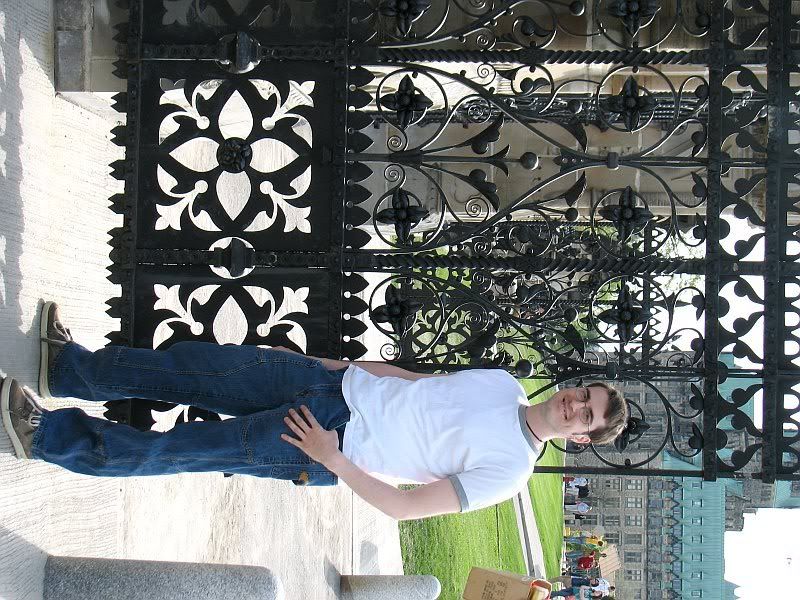 Me, loving the wrought iron...literally.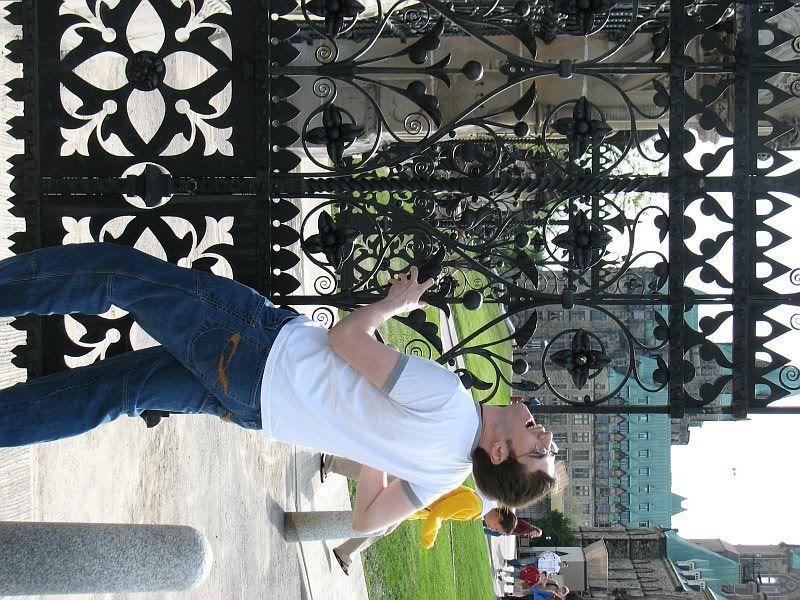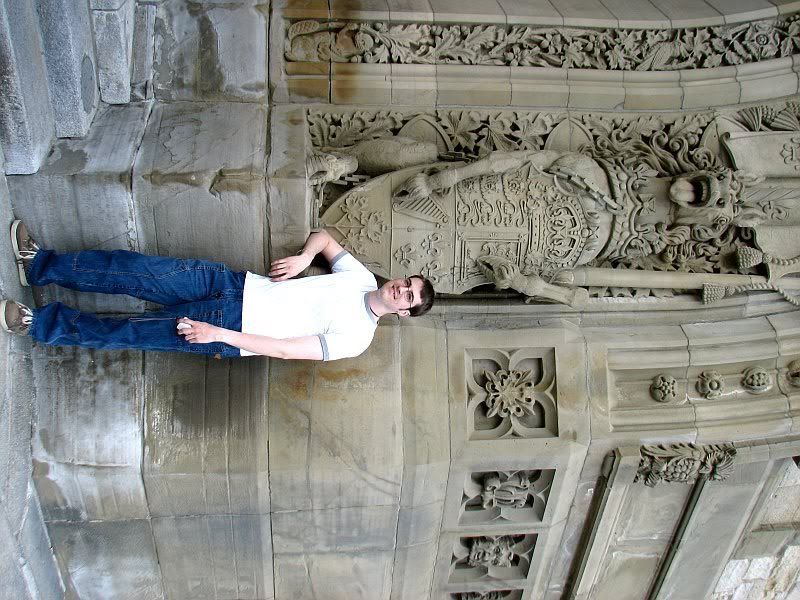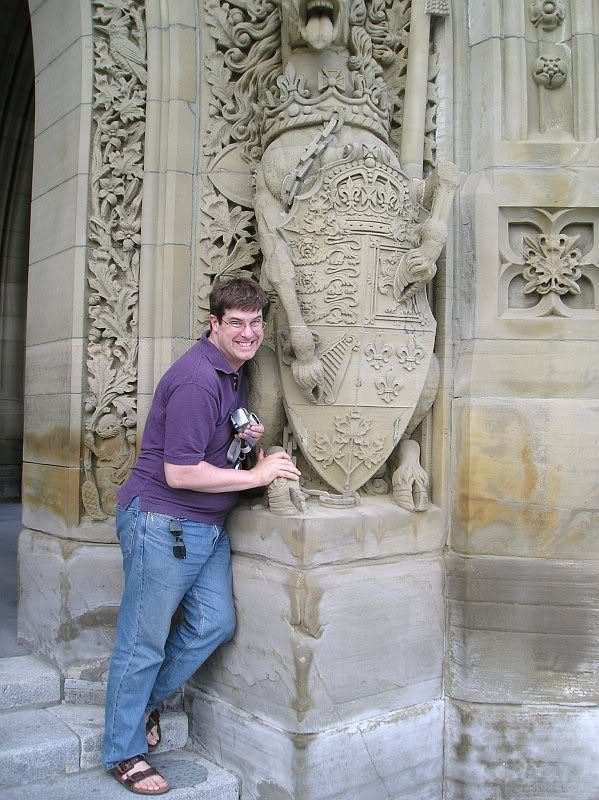 A view of Langevin Block (office building build after Parliament, to house extra offices).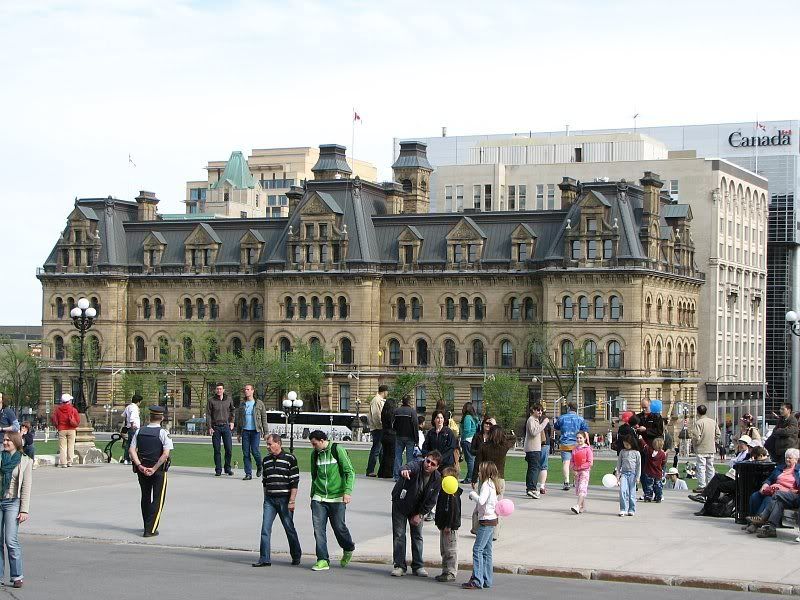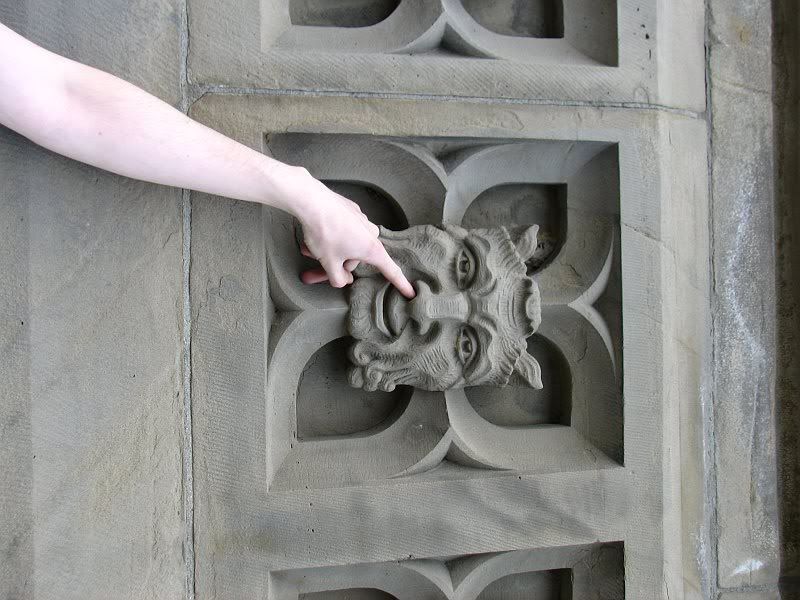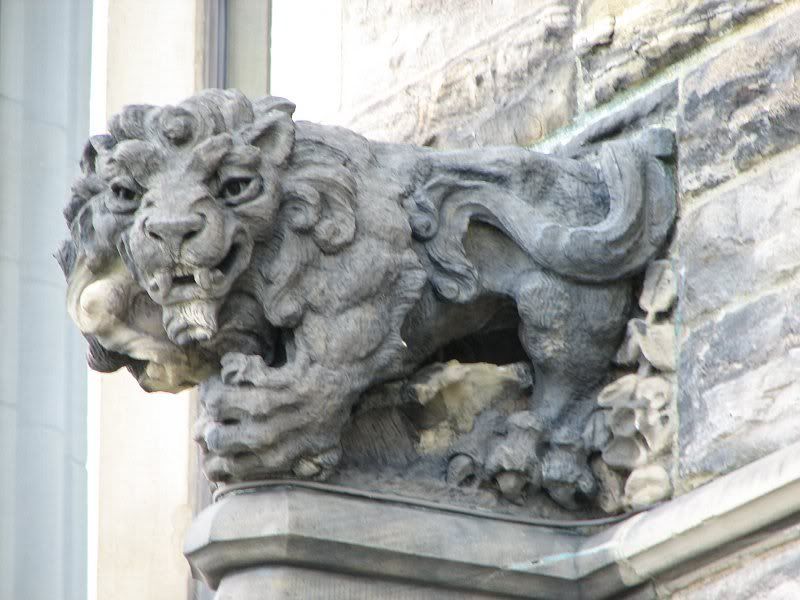 Views taken from behind Centre Block:

Supreme Court of Canada: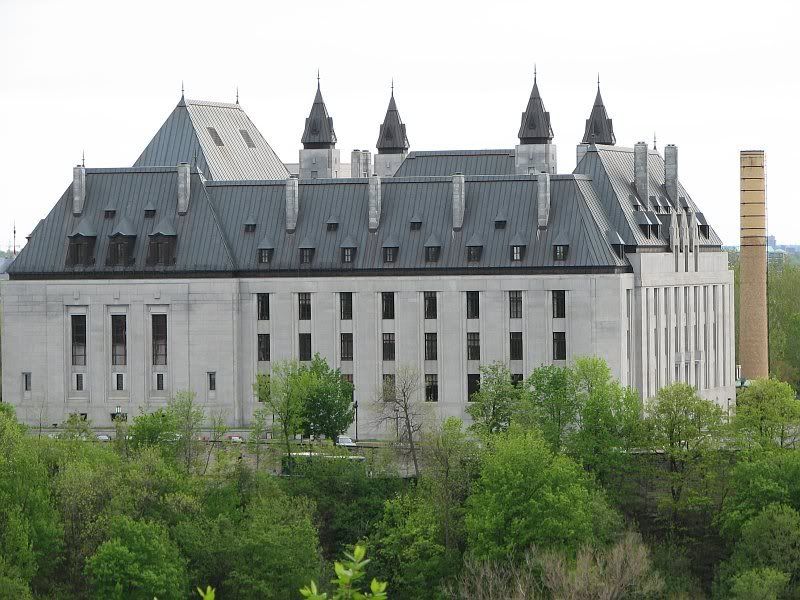 Museum of Civilizations in Hull: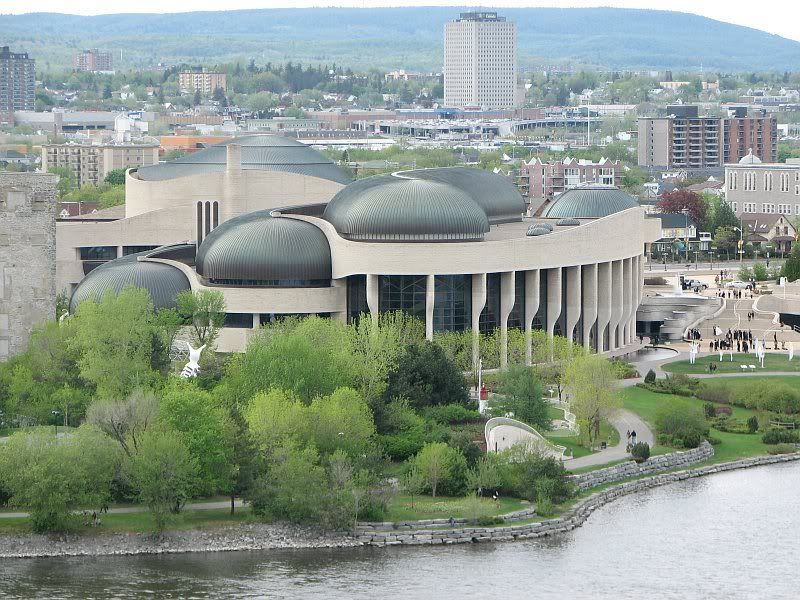 Notre Dame Church: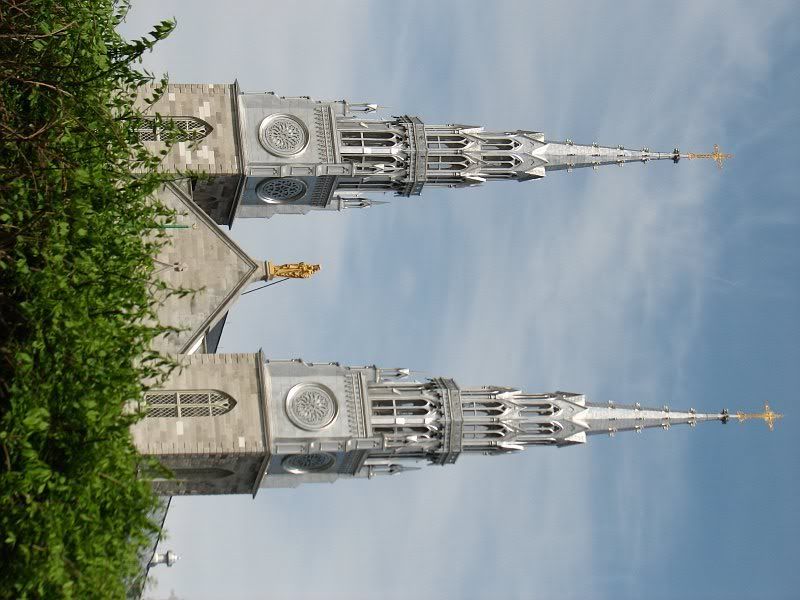 Then this one was taken on the steps of the East Block: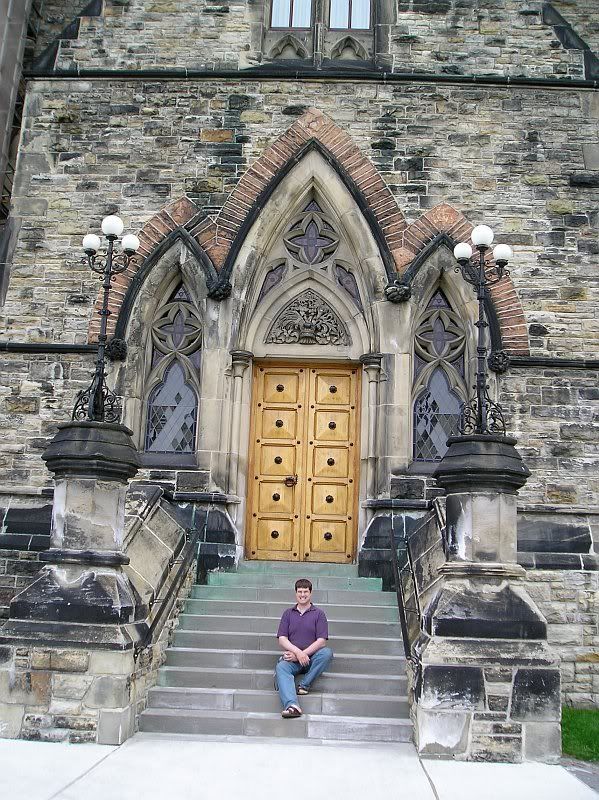 We headed back to Cornwall after that, and got home around 5:30-6:00. We decided to cook supper, and I needed a few groceries, so I went with Larry to Loeb. We got some supplies for French Toast (for Sun morning), and for supper.

Supper took a while to make, and I was starving. Larry helped me prepare stuff. I made this recipe: http://soothskitchen.livejournal.com/3738.html

The rest of the evening was spent chatting about clocks, I believe. I showed him how to mix hide glue, and shellac.

***

On Sunday morning, we made stuffed French Toast (with ham and swiss cheese inside). We talked for a while that morning, and then left in the afternoon to go tour the Wood House, and the County Jail. I forget what we did for lunch, actually.

The Wood house is a beautiful old stone house, that I believe was built in the 1840's. It was not owned by anyone famous, and the family lived there until the 1960's so most of the original furnishings and artifacts were all gone/sold by the time it became a museum. Therefore, the museum is set up with rooms that refelct different periods, and it's mostly got all donated artifacts of local origin, or from the area.




I took a bunch of photos inside, but I'm mainly only posting photos from the 2-3 more interesting rooms.

I had 2 awesome shots of the kitchen, but both turned out really blurry. Here's the old stove (made in Montreal). It's really fancy and has mirrors at the top (no one is quite sure why, though).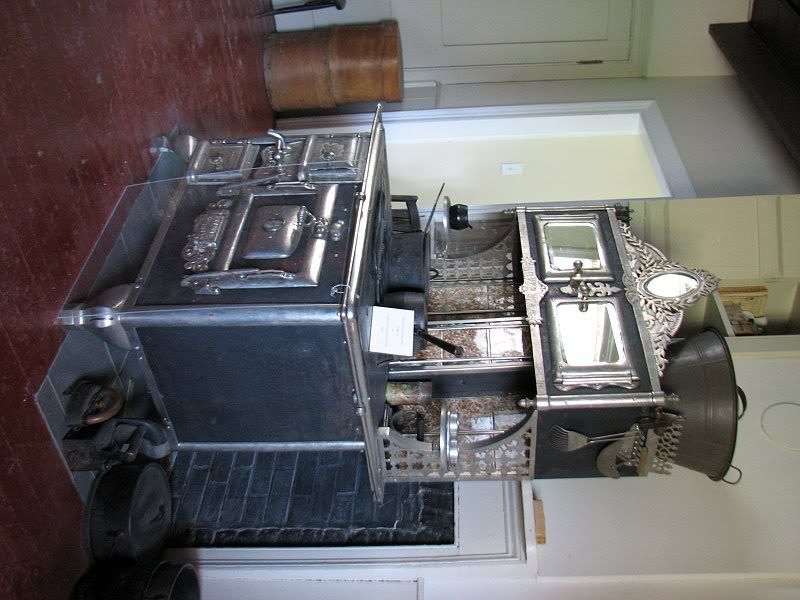 The livingroom (set in the 1850's) was one of the coolest rooms. It had an all original 1840's-1860's sofa (you can only see part of it in the wax fruit pic), a Twiss (wooden movement) Longcase clock, and a beautful mahogany veneered piano.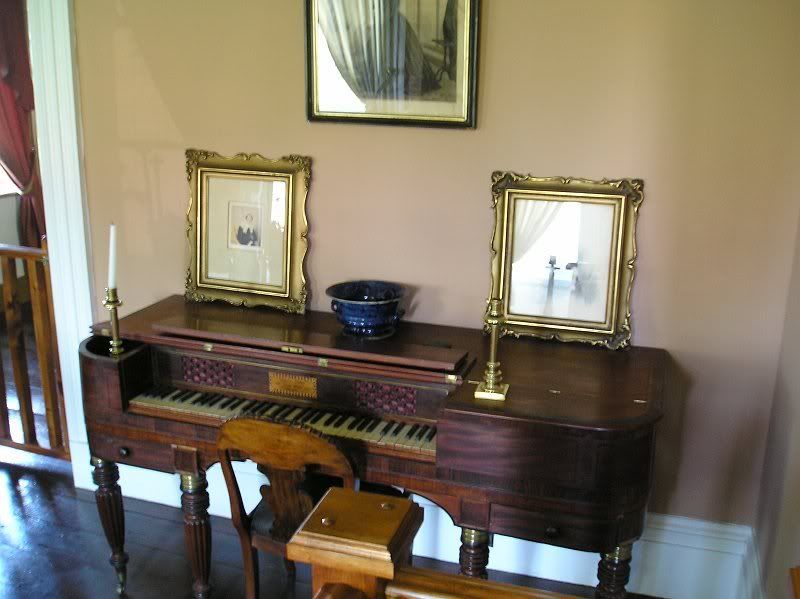 Wax fruit!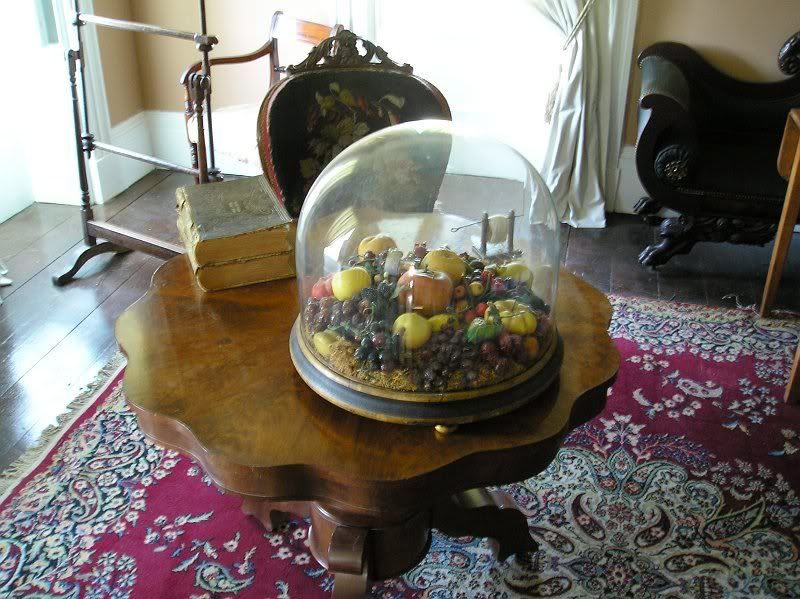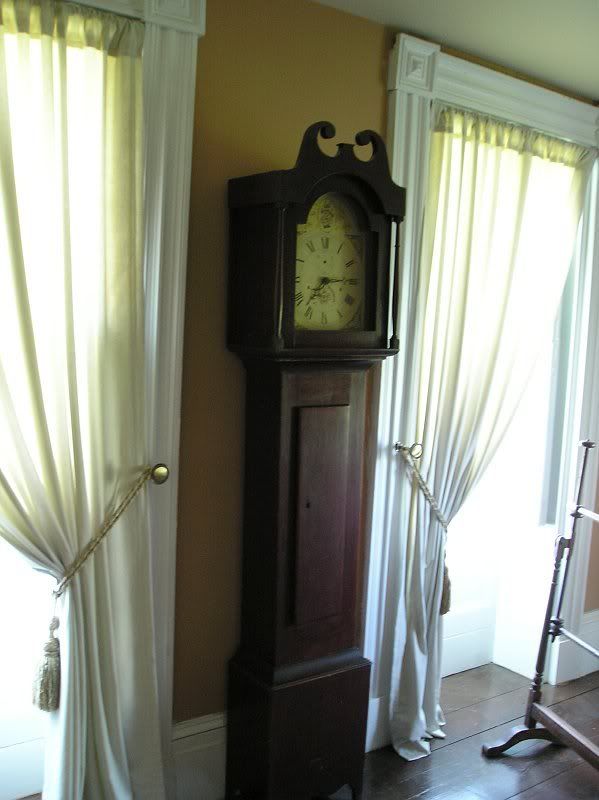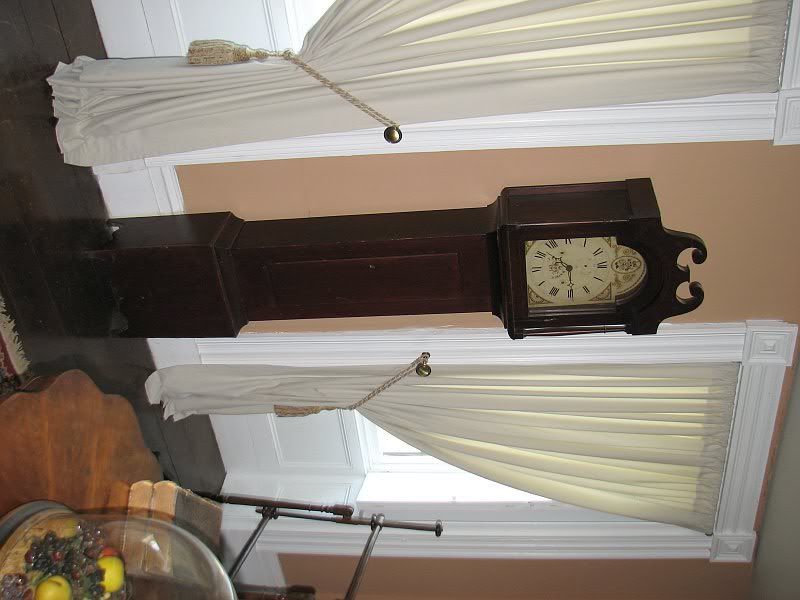 The tour guide lady Natalie was AWESOME. We were asking her a ton of questions, and she was really into the local history, and was pointing out a ton of stuff.

There was another room that was 1880's that had an organ, a nice old desk, and in one corner, a gingerbread clock. L might post a pic of that room. There was also the 1960's dining room that was nice. Upstairs was a bit small. There was one room set in the 1930's and another room that was just an office. But in the hallway upstairs, on the wall, was an old frame with flowers inside it made out of HAIR. The lady who I set up the longcase clock for, also had one of these. They were popular around the victorian era, I think.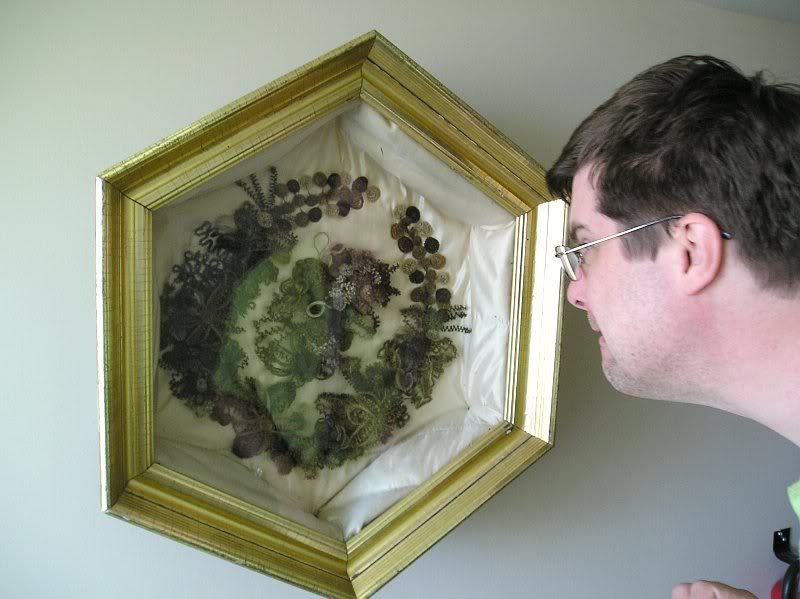 The flowers and leaves are quite detailed too. I thought it was neat.

The entire building is on an 18 foot deep foundation. So underneath, they have a whole archive of stuff, and you can do searches on local history.

We got out of there at 4, and it was too late to tour the County Jail, so we sat and relaxed in the grass in Lamoureux Park. After this, I showed L the Clocktower, and then we went and had chinese for supper.

When we got there, we were asked if we had reservations, and only then, realized that it was Mother's Day. Had we gotten there 10 minutes later, we would not have gotten a table.

That evening we worked on clocks again, and I showed Larry how to install bushings.

We were just chatting, when around 11:00pm,
frozentide and
sefarina dropped by. So we all introduced ourselves, and we were up talking until about 2am! We had fun, but MAN, we were tired. And Larry had an 8 hour drive home the next day.

***

I got up LATE on Monday, and Larry drove me to work. I showed him the shop, and the store, and then he was off.